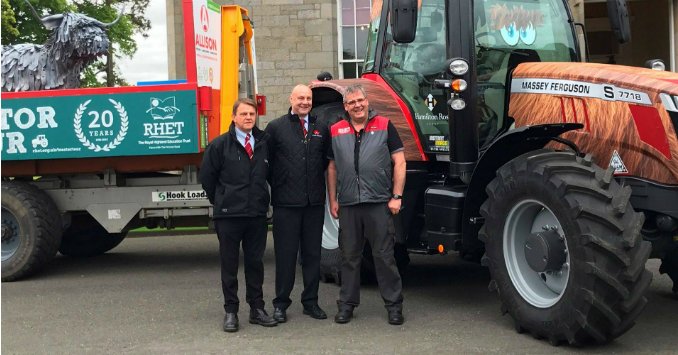 There's a new coo on the block!
July 3, 2019 |  3years | General
The Royal Highland Education Trust unveil Highland Cow Massey Ferguson to kickstart their 20th anniversary Tractor Tour!
The Royal Highland Education Trust (RHET) is celebrating 20 years of taking the 'classroom to the countryside' this week by travelling 600 miles to 12 Scottish Schools in a Massey Ferguson 7718 S tractor wrapped to look like a Highland Cow!
The eye-catching tractor, which has been supplied by farm machinery dealers the Hamilton Ross Group in partnership with Massey Ferguson, left the Royal Highland Centre this morning to embark on a week-long tractor tour to schools in each of the 12 Countryside Initiative (CI) areas around Scotland before returning to the Royal Highland showground in time for the show.
George Lawrie, Chairman of the RHET board, will be driving the tractor over a 600 mile route with the aim of raising £10 for every mile travelled for the trust to reach a target of £6,000.
George Lawrie commented: "We are delighted to announce that we have already reached our target of £6,000 and we are hoping to raise even more funds once we start the tractor tour this morning. RHET are happy to be working alongside the Hamilton Ross Group and Massey Ferguson and would like to thank both companies for their continued support."
Accompanying the tractor is a branded trailer, supplied by Allison Enterprises and the Binn Group, and a Highland cow sculpture made from recycled farm metal by Kev Paxton of ArtFe. All aspects make for quite a spectacle, which is sure to capture the interest of the children at each school visited.
During the tour, each school will be given the opportunity to enter a competition run by Massey Ferguson and the Hamilton Ross Group to name the tractor. The winning school will be awarded a RHET Farm Visit. In addition, there will also be various games and a colouring competition.
Hamilton Ross Group Perth General Manager, Sam Mercer said: "We are delighted to support this fantastic fundraising initiative. RHET provide young people with an invaluable understanding of Scottish agriculture and the countryside, something which is crucial to the future of our industry."
RHET started educating the children of Scotland in 1999, teaching them where food comes from and the environment around them. Today, the RHET takes more than 16,500 children onto farms and estates throughout Scotland every academic year.
Source: masseyferguson.co.uk